Elderly couple loses home after fire
Posted:
Updated: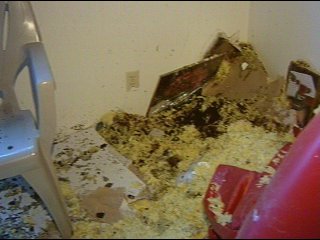 KENNEWICK, Wash. -- A fire gutted three units at the Heatherstone Apartments located on 1114 W 10th Avenue.
One of the families displaced is an elderly couple, Victor and Lydia Borshe. The two had just fallen asleep, when police knocked on their door Tuesday evening at around 11:30pm, and evacuated the building. The couple leaving with just the clothes on their backs, and staying the night at their nephew's, Boris Novoselskiy's house.
The Borshes were allowed to return inside the following day to collect their medication and pack up some of their things. But then they were faced with a new problem, finding a place to live in this tight housing market. Victor Borshe says the manager of Heatherstone would not have anything available for at least two more weeks, and even then she can't guarantee it will be on the first floor, since they both have trouble walking up and down stairs. Borsche says this is too stressful for them and their poor health, "Today, we're running around looking for a place to live, but it's not that easy, there are no available apartments. And we're sick people, we need to hook up special medical equipment when we sleep. And it's hard to hook all that up in other people's homes."
The Fire Marshall of Kennewick, Mark Yaden says they are still investigating the cause of the fire. He is asking for any help from the public. Yaden says if anybody knows anything to contact the Kennewick Fire Department or Benton County dispatch at 628-0333.
If you are interested in helping Victor and Lydia Borshe, contact their nephew, Boris Novoselskiy at 509-734-9215.