Murder victim's father threatens defense attorney
Posted:
Updated: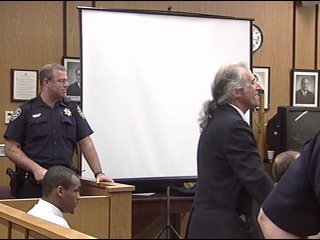 Yakima, WASH— Today is day six in the murder trial of a Eric Vargas, and a reported threat against an attorney caused a recess.
Lee Edmond, the defense attorney for Julian Williams says the father of the victim made him fear for his safety. Edmond told the judge that the father of Eric Vargas confronted him in the bathroom. He said the father accused him of having spilled water on him at another time and said that he wouldn't forget it. According to the lawyer, Vargas then tried to block him from leaving the bathroom.
"I don't think at this point that I can give adequate representation to my client because my mind is in fear of this guy. I'd like to take some time and have a police escort to my car, I'd like to go back to my office and get my firearm", Edmond told the judge.
Before granting a recess Judge James Lust reprimanded the victim's father but allowed him to continue coming to court.
Eric Vargas was shot last year. Armando Gonzalez and Julian Williams are both charged with second-degree murder for his death. According to the Sunnyside police department it was gang related, however the victim was not a gang member himself. Police say he did associate with them though.
The defense began their case after the lunch recess calling material witness Joshua Sarabia. Sarabia was brought over from juvenile detention to testify. He also testified as part of the prosecution's case. Closing arguments in the case could come Friday, however they could be delayed until early next week.