Understanding fireworks restrictions in Yakima County
Posted:
Updated: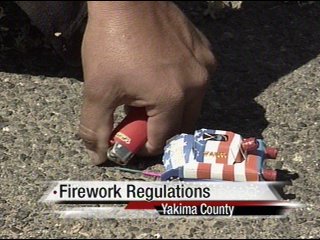 YAKIMA, Wash. -- The rules of fireworks (illegal vs legal) for the Fourth of July can be confusing legal or illegal.
Fireworks are an age old tradition, you may be tempted to light off a few, but to avoid a hefty fine you should know where they are legal.
"If you're not an enrolled member of the Yakama Nation you cannot legally go anywhere in Yakima County to light off fireworks except for a few communities that make it legal on the Fourth of July," said Sgt. Mike Russell, Yakima County Sheriff's Office.
Enrolled members may only light fireworks on tribal land and cities across the county have their own restrictions. Fireworks stands are highly regulated too. Operators must complete a safety course to get a permit. One stand owner said they are shown images of burn victims and property damage, then learn safety tips to pass along to customers. Since the permitting became required fire calls on the Fourth have dropped from around 70 to around 30, almost half.
"We truly do as law enforcement officers understand the frustration that some people have with this law because I like so many others have so many fond memories. What we ask people to do is please abide by the laws and please be safe," said Sgt. Russell.
If you're caught with fireworks where it's prohibited the fine is up to $1,000.
The best rule of thumb is to find out if fireworks are legal in the city you live and there are fireworks shows across the state.
Click here for City of Yakima rules
Click here for Yakima County rules