A new generation of primary care physicians train at KGH
Posted:
Updated: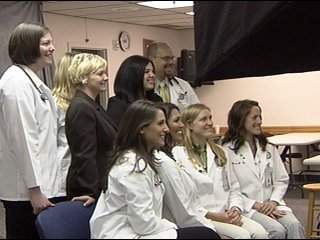 KENNEWICK, Wash.,-- A new generation of primary care physicians are starting their clinical rotations here in the Tri-Cities. The seven third-year medical students from Pacific Northwest University of Health Sciences, College of Osteopathic Medicine will work and train with the doctors and staff at Kennewick General for their training, a first of its kind of program.

The director of medical services and physician recruitment at KGH,Trevor Smith says, "The osteopathic school started 2 years ago. This is the first inaugural class for them. They'll have four years as med students and then move on to residency programs. It was started in Yakima, its beautiful there. The community and all its supporters have really supported us getting started."
The Chief Executive Officer for KGH and Kennewick Public Hospital District, Glen Marshall says, "we are proud to bring this alliance with PNWU to the Tri-Cities because once these medical students graduate, they will live and work in the rural communities they serve, so they care car for and treat their neighbors."
One of those students in the program is Jamie Klippert, who grew up in Pasco. She says she's glad to be back home, "I grew up in here so I know some of the needs that exist and it would be great to end up here as a doctor."
Another student, Jessica Morales from Michigan says she loves Yakima and hopes the next two year in the Tri-Cities lead to a better opportunity, "I would love to stay here, I just spoke to Trevor and she is talking about the option of doing Emergency Medicine in the Tri-Cities, which is really exciting for me."
Trevor Smith says KGH is also applying to host a residency program for the Osteopathic Medicine students. This way they can go on to complete their residencies here as well.