Prosser teen creates board game based on local wineries
Posted:
Updated: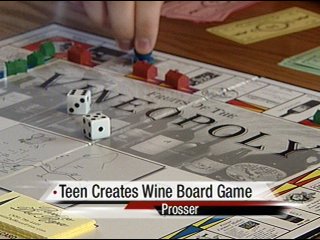 PROSSER, Wash.-- A Prosser teen has created another version of a famous board game based on the wineries in the area.
18-year-old James Weisz created the game "Vineopoly." He says, "Basically, it works just like regular Monopoly. You just have your pieces, roll the dice, you move your spot." The difference, though, is that the properties on the board are based on Prosser wineries and breweries.
Weisz has Aspergers Syndrome, which is a high-functioning form of autism, but he hasn't let that stop him from creating the game. Over the past three years, he's worked on a design and getting sponsors. He says, "What we had to do is go around to the different wineries and.. businesses and ask for their sponsorship and support to the board."
After working with a company that produces other "--opoly" games and knocking on a few doors, "Vineopoly" now sits in 500 perfectly packaged boxes, ready to be shipped to customers or sold at local wineries.
One of the wineries featured on the board is Kestrel. Winemaker Flint Nelson says, "They looked pretty darn good, so we started selling them here and it's been a real success."
Weisz hopes to sell enough to make $7,500 so he can go to the British Isles. He says, "I'm going with an organization called People to People, which sends students overseas to different countries and to learn about the culture."
Each game costs $35. You can buy one at most wineries in the Prosser-area or e-mail Weisz and his family weisacrs@embarqmail.com.