Post-holiday fires continue in the Lower Valley
Posted:
Updated: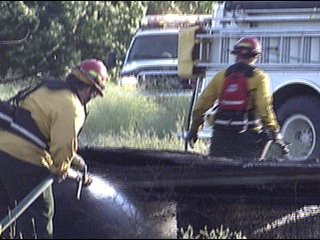 Yakima, WASH-- When we talked to Yakima Police and County Sheriff on Monday afternoon they reported pretty quiet weekends. For Yakima County Fire District 5, that couldn't be further from the truth.
The Fourth of July has come and gone, but lower valley fire had already responded to 3 fireworks- related blazes, by three on Monday. It's a little early to say for sure, but Monday could be shaping up to be as busy as yesterday for Yakima County Fire District 5.
"History shows that the third, fourth and fifth is really a toss up. Last year we got hammered on the third, and the fifth and the fourth was really quiet. The 3rd was relatively quite the fourth was medium uh and tonight'll just depend, says Kevin Frazier, Deputy Fire Chief for Yakima County Fire District 5.
No rest for the weary; district five responded to 38 calls on the fourth, considerably more than last year.
Most of the fires were small brush fires with no structural damage. About 50% were out by the time firefighters arrived, but a few, like the one on Knight Lane in Wapato, burned over 30 acres. That's due as much to mother nature as careless fireworks displays.
"We had 10-20 mile per hour winds and whenever you have winds that small fire that the homeowner may get a hold of, got out of hand", explained Frazier.
Around 5pm Lower Valley fire has just contained another large brush fore I White Swan. That one burned between 40-100 acres. They say fireworks weren't to blame though…the suspect arson.