"Young Guns" Target Jarvis Restoration APBA Gold Cup Unlimited Hydroplane race
Posted:
Updated: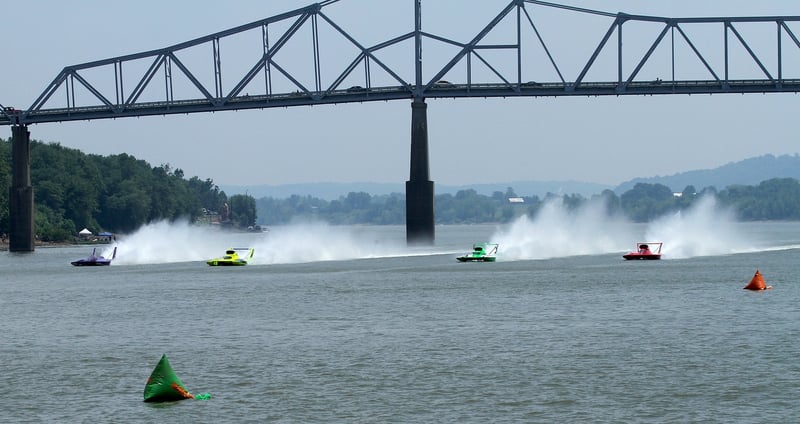 Steve David won at Madison, but the Young Guns made an impression
DETROIT, MICHIGAN (July 6, 2010) – The 2010 season opener for the H1 Unlimited Hydroplane Series in Madison, Indiana was won by veteran Steve David in the U-1 Oh Boy! Oberto. Another veteran, Dave Villwock in the U-96 spirit of Qatar was expected to be David's chief rival. But when his boat failed to start in a prelim, the loss of points cost him a place in the front row of the final.
But much of the talk concerned younger drivers. J Michael Kelly in the U-7 Graham Trucking and Brian Perkins in the new U-21 Miss Albert Lee Appliance looked very quick and turned in impressive driving performances. Kip Brown also looked very good in the U-17 Our Gang Racing.
Jeff Bernard in the U-5 Formulaboats.com looked just as fast but was derailed by N2 violations. JW Myers, a few years older than the "young guns," was also very quick and finished high in the U-37 Miss Peters & May.
Commenting on his younger competition, Madison winner David said, "JMK, JDub, JB, BP etc. have good heads on their shoulders and quality people leading their teams. A difference of 1-4 MPH in qualifying can easily be nullified by water conditions, set up etc."
David added, "I can also tell you that these guys are terrific competitors. I've raced 10 feet apart from them and feel absolutely confident I'm next to professionals."
Two newcomers also impressed with solid driving in their first Unlimited racing experience. Cal Phipps took the controls of the U-13 Spirit of Detroit and drove like the experienced racer he is. The same was true of Jon Zimmerman's performance in the U-25 Superior Racing.
The field of 11 Unlimited Hydroplanes expected to compete on the Detroit River will be one of the biggest and fastest in the history of the event.
The World's Fastest Race Boats will go into the water for testing on Friday at 1:00 pm EDT and return for qualifying at 4:00 pm EDT. Racing begins Saturday with preliminary heats at 11:35 am EDT and concludes with the Championship Final Heat at 4:20 pm EDT Sunday.