50 cats left behind
Posted:
Updated: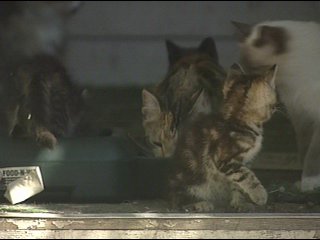 KENNEWICK, Wash.- A woman is evicted from her home and leaves behind over 50 cats.
Neighbors started seeing cats at their own homes looking for food. Once they realized where the cats were coming from they headed to the house next door. There they found sick, starving and neglected cats.
Neighbors have been unable to contact the woman. The landlord would not say why she was evicted. They have also contacted Benton County Sheriff's Deputies. Benton County Sheriff's Deputies did go to the home and have begun investigation.
But until something is done neighbors are continuing to take care of the cats. One woman, Lee McPeek, has gathered thousands of dollars worth of donations to feed and medicate the cats. But it isn't enough. Three of the cats have died and many others are on their way. Lee hopes she will be able to save some of the cats and give them to families.
The left behind cats has taken an emotional toll on the neighborhood. Lee says, "kidding an animal, it's just devastating and no one should have to go through that."
Another says, "it's heartbreaking is what it is. It's completely heartbreaking."-Heather Pophe
Currently, they are not looking for people to adopt. But if you would like to help, they are asking for donations.
You can send donations to:
East 10th Rescue
PO Box 3011
Richland, WA 99354