More community gardens growing in the Tri-Cities
Posted:
Updated: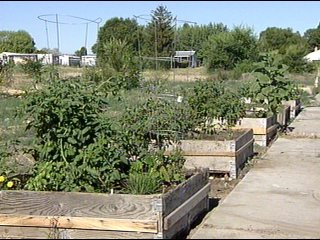 KENNEWICK, Wash.-- More people in the Tri-Cities are planting their own fruits and vegetables in community gardens.
Produce is starting to grow in the newly planted "Hopeful Harvest" garden off Metaline Ave. in Kenenwick. Gardeners first dropped in their seeds around Mother's Day. The community garden, like many others in the Tri-Cities, was partially started by the"Confluence Community Action Network."
The premise of a community garden is someone donating a piece of land, gardeners building raised beds and smaller plots, then community members can pick an area and plant. Some people who don't have their own yards, but still want to grow their own food, use community gardens.
Ginger Wireman, President of CCAN, says, "We held some interest meetings in the February/ March time frame and had about 35 people come to those meetings." That's when the ball started rolling.
Wireman says, "As far as I know, there were only 2, 2 years ago. Now, I think we're up to about 5 or 6."
The City of Richland started a garden this May in McMurray Park. City workers say it's full, with more people wanting space. They hope to be able to expand the garden next spring.
Another new garden was just completed this week behind Bethlehem Lutheran Church in Kennewick. Jessica Gates spent the past few months getting the "Garden of Eatin" ready to grow. It's a 12 plot community garden. Gates says she wants to open up the space to anyone in the area who doesn't have their own yard in which to garden. If you're interested, e-mail her at 4gardenofeatin@gmail.com.
You can also visit CCAN's website for more information on other gardens.