Good Samaritan Returns Wallet with Almost $900 in Cash
Posted:
Updated: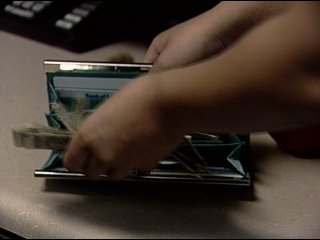 KENNEWICK, Wash., -- Imagine losing your wallet, identification, credit cards, plus $879 in cash for your rent payment? Then imagine a complete stranger finding it and tracking you down to give it back. That very thing happened to our own web producer at KNDU.
Megan Cross had Monday, July 5th off for the holiday. She planned on going boating with her friends when she says, "I ran into Albertons to get some ice and some other things and that's the last time I had my wallet."
Right after boating, she tried going to the grocery store to get a money order to pay her monthly rent, but she discovered her wallet was gone. "Its not like it was just 10 dollars and a credit card. I lost my ID, 2 credit cards, plus over 850 dollars. It was devastating," recalled Cross.
That night and all day Tuesday, Cross went back to Albertsons, called the police station, checked the boat and around the boat launch. She looked everywhere but had no luck.
Wednesday night, that all changed with one voicemail. Cross says, " I just got a message and he said 'I have your ID, if you've lost it give me a call back.' So I called him back immediately."
The good Samaritan at the other end of the line was Charlie, Bortz, a new employee at Albertsons Express in Kennewick. He says someone found the wallet and turned it in and it has just been laying in their safe until he decided to check it out. Bortz says, " I saw her ID and I saw how much money was in it and I thought oh, man if that was me , I'd be freaking out."
It was the kind act of two strangers that helped reunite Cross with her wallet. Bortz was able to track Cross down thanks to a lottery ticket he found inside her wallet, that was filled out with her address and phone number. And that lottery ticket turned out to be lucky after all.