Selah house fire deemed arson for the second time
Posted:
Updated: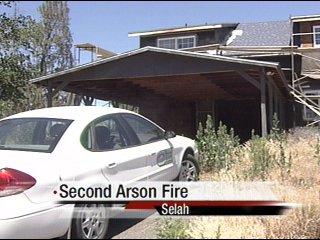 SELAH, Wash. -- Investigators are calling a house fire in Selah arson and it's not the first time this home has been hit.
From the outside the house looks like an abandoned remodel. You wouldn't know it's been hit by arson, twice. But, vigilant neighbors saw people leaving the scene of fire Thursday morning.
"I saw a couple of guys checking this house out down here and I've seen it for quite a few years a guy working on it once and a while," said Jeremy Stephens, neighbor.
As fire crews arrived a bit of smoke came out the windows, but no visible flames. The deputy fire marshal says three small fires were set inside the house.
"No signs of electrical shorts, basically all the accidental things were eliminated," said Don Linder, deputy fire marshal, Yakima County.
The homeowner lives out of the area and only works on the house on occasion.
Investigators would like to talk with the man seen leaving the area this morning. He's described as a white male, in his early 30's, with red hair and he was carrying a blue backpack.
So far neighbors have helped save this house from significant damage.
"I see kids playing around there once and a while throwing rocks at the windows. [I] tell them to quit, you know how kids are," said Stephens.
The dry brush around the house is also a problem. The fire marshal says you shouldn't invite trouble, keep your property clear of any flammable materials.