Tri-City Bats Bounce Back
Posted:
Updated: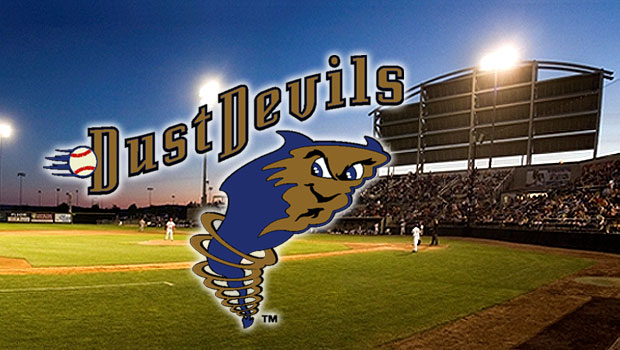 Pasco, Wash--
The Tri-City Dust Devils (10-12) offense clicked for the first time in what seemed like a century Sunday night, exploding for 10 runs on 14 hits. The win, 10-0, evened the series between the Dust Devils and the visiting Salem-Keizer Volcanoes (10-13) at 2-2.
The Dust Devils, who managed just three runs in the last two games, exploded for five in the fifth inning alone. Catcher Bryce Massanari dealt the biggest blow, a grand slam that made it 5-0 in favor of Tri-City. Massanari finished the night 3 for 5 with two home runs, putting him at a team high three on the year. The Las Vegas native also drove in five of the Dust Devils' ten runs, pushing his season total to ten.
Rookie second baseman Russell Wilson also went deep, hitting his first career home run, a solo shot to left field. Wilson was 3 for 5 with two runs batted in on the night.
Those runs were more than enough for rookie right-hander Chad Bettis (1-0). Bettis earned his first career win, going five shutout innings. The Texas Tech alum allowed three hits while striking out two.
Relievers Brad McAtee, Kraig Sitton and Billy Vopinek combined for four scoreless innings in relief, securing the win with ease. The victory was also the second consecutive Tri-City shutout.
Volcanoes starter Edwin Escobar (1-2) was tagged with his second loss of the season after allowing five runs in 4 2/3 innings of work.
Monday is the first and only day game of the season for the Dust Devils, with the game time set for 11:15 a.m. Tri-City will send out righty Parker Frazier (1-2) to try and make it three consecutive victories. Countering Frazier will be Volcano right-hander Kevin Couture. Couture is 1-2 on the season with a 2.92 earned run average 12 1/3 innings of work. It will be Couture's second start of the season. Monday is also Coca-Cola Monday, with all Coke products on sale for just a dollar.