Washington's first furlough day
Posted:
Updated: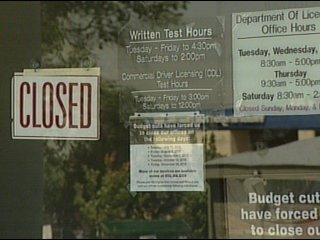 KENNEWICK, Wash., -- Monday, July 12, 2010, the first widespread shutdown of state agencies as a result of a $12 billion dollar budget shortfall during 2009-2011. The furloughs are designed to save $70 million in all funds for 2010-2011.
50 government agencies shut down today across Washington, affecting 35,000 employees, all forced to take 10 unpaid days off.
In April 2010, the state passed Engrossed Substitute Senate Bill 6503, designed to reduce state government spending for employees. The law requires state agencies to close on 10 business days or submit an alternate plan for reducing the budget to be approved by the Office of Financial Management.
Robert Holland, unaware of the furloughs tried to make his appointment at the Department of Social and Heath Services in Richland. Holland says, "I was supposed to talk to one of the social workers, I was set up to come in today and obviously no one is here."
The social workers next door at Protective Child Services remained opened as did other government agencies dealing with public safety such as: emergency response personnel, State Troopers and corrections officers.
Additional closures will take place August 6, September 7, October 11, and December of 2010.
In 2011, the furloughs will take place on January 28, February 22, March 11, April 22 and June 10.
For a complete list of Agencies that are affected click here.