Public hearing justifies countywide moratorium on adult businesses
Posted:
Updated: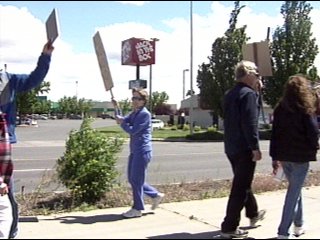 YAKIMA, Wash. -- Yakima County Commissioners held a public hearing Tuesday to justify the countywide moratorium on adult businesses.
As a local business man announced plans to develop a strip-club in Yakima county commissioners took notice. And what they found, nothing on county books to regulate adult business.
"I think the key motivating factor behind it is the fact that the county has no ordinance in place at all," said the county's legal consultant.

Commissioners quickly implemented a moratorium, which stalls any development of adult businesses under county jurisdiction. Tuesday's hearing is a legal requirement to justify the moratorium.
Only one person spoke to the issue.
"And I just really appreciate the county taking this proactive step, I strongly support the implication of a moratorium," said Elizabeth Benefiel, Yakima County resident.
The other side of the argument was not represented at the hearing, but in the hallway with a friendly debate.
"Economics would dictate whether or not it stays or not. If nobody wants it, nobody would go there, they'd close-up," said one man.
The moratorium gives the county six months to research ordinances in other counties and propose regulations. Adult business, protected as free speech, can't be banned all together.
"My first choice, quite frankly, would be that they be banned. I doubt that we're going to get that so my next choice would be is that it be very strictly controlled," said Benefiel.
After Tuesday's hearing the county will continue with a fact finding session to also make sure that the moratorium is justified for a full six months.