Eugene Edges Tri-City, 4-3
Posted:
Updated: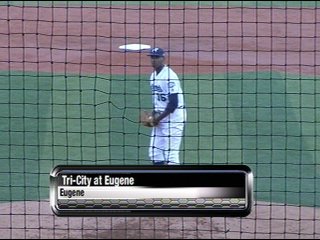 Eugene, Ore.--An offense led by Ems short stop Chris Tremblay seemed to sneak up on the Tri-City Dust Devils tonight in a 4-3 Emeralds win at PK Park. The Emeralds returned home with the win, putting them on a current three-game hitting streak, their longest of the season.
The Dust Devils seemed to be the favorite after scoring in first and second innings off of a rocky start by last minute starter, rightie Dexter Carter. Tri-City had back-to-back homers by first baseman Mark Tracy and third baseman Jayson Langfels in the second inning. Carter only pitched one inning and was pulled before making a single out in the second. He allowed four hits, three runs-two of them being homers-while walking two.
But the Ems' pitching woes ended when right-handed pitcher Matt Branham took the mound in the second inning. Branham went on to get the win for the Emeralds behind a stellar offense led by short stop Chris Tremblay.
Tremblay, who is now leading the team and the Northwest League with a .368 batting average, went 3-4 on the night with two doubles, two RBI, both being two-out RBI. It was with Tremblay's two-out two-run RBI in the bottom of the fourth that the Ems were able to tie the game after Rymer Liriano scored on a pass ball the previous inning.
Tremblay's RBI was then followed by a RBI single by Jedd Gyorko to take the lead over the Dust Devils. The 4-3 lead would stick for the rest of the game as Ems righties Mauricio Tabachnik and Robert Sabo were awarded with the hold and the save respectively.