No Go3 Racing in Tri-Cities or Seattle
Posted:
Updated: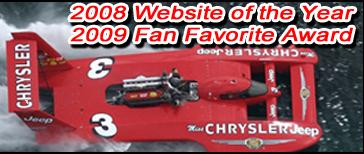 The winner of the 2009 Unlimited hydroplane series "fan favorite award" is sitting out the Tri-Cities race -- and the rest of this season.
While Go3Racing.com owner Ed Cooper Jr. will explain in detail how the interpretation of the qualification rules has changed from year-to-year, he said the rule book dispute is really a symptom of a larger issue: lack of integrity in the management of the series.
"I absolutely want to run my boat," Cooper said, "but I can no longer tolerate the actions of the H1 leadership." The rules are changed and interpreted by series Chairman Sam Cole and Chief Referee Mike Noonan differently from year-to-year and even race-to-race, Cooper explained.
Cooper asked the H1 Board of Directors to clarify qualification rules in the off-season to avoid future misunderstandings, but the issues were never resolved, he said.
Cole said he is disappointed that the Cooper team is not racing.
"Ed's team, brings an element to the sport that no one else can," Cole said. "I respect his decision and look forward to the day that his team returns. Hopefully it will be sooner rather than later."
Cooper said his team worked hard during the off-season rebuilding engines to make the only piston-powered boat on the circuit faster, and had every intention of traveling the circuit as it had in the past. He said he will miss the friends and fans that have cheered on the Big Red Turbinator in the Tri-Cities and Seattle over the past 24 years, but he won't put up with the dishonesty of the organization's leadership any longer.
"Doing the right thing is sometimes the hardest, but this is the right thing to do," Cooper said.
Ironically, Cooper is currently on the H1 Board of Directors, which is made up of four boat owners, four race site representatives and Cole. It's unknown if he will continue in that role, Cole said. "That is a decision of the Board and not mine. We'll have to see what his interest is, as he is not registering his boat."
What will get Cooper's popular red boat out of his Evansville, Ind. shop and back on the water? A new chairman of H1. "As long as Sam's still there, I'm out."