Mastering His Anger: Chandler Laurent
Posted:
Updated: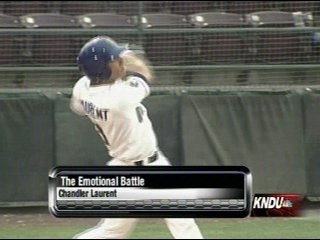 PASCO, Wash. -- The art of good sportsmanship is tough for some to master. It requires controlling your emotions, refraining from foul language, and maintaining a positive attitude at all times. Dust Devils Outfielder Chandler Laurent is just beginning to master it after years of struggling with it.
"I had times when I would come in, I'd be like 0 for 3 or something, and I'd come out and I'd slam my hat, slam my bat," said Laurent. "But, that's no good. You're playing everyday. You just got to forget about it and it's tough but I've gotten better at it."
Not much angers Laurent these days. He ranks in the top 10 in 6 major offensive categories, including being 1st in doubles and 2nd in slugging percentage.
"You want to set yourself up to be successful," Laurent said. "We're coming in everyday at the ballpark. We're confident. That's the one thing I've learned. You can be physically tired but if you can stay mentally strong throughout the course of the season, you will be better off. If your mind says no, your body will say no."
But, this perfectionist still has trouble when his bat loses its mojo. At times, his teammates call him the 'Loose Cannon'.
"What you got to do is you just got to forget about it, just as quickly as you possibly can," he said. "You're gonna get another at-bat. You're going to be playing tomorrow."