New Tri-Cities family magazine hits stands this fall
Posted:
Updated: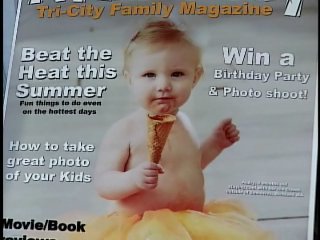 KENNEWICK, Wash.-- Two parents have teamed up to write a magazine for families in the Tri-Cities. Jennifer Tomasino has a 14-month old daughter and Eric Schultheiss has a 9 and 10 year-old. They met a few years ago working at another job. Now, both parents, they recently reconnected over the idea of a magazine. It's going to be called "Kid's Play: Tri-City Family Magazine."
Tomasino says, "I've been surprised at the process of becoming a parent. There is so much more involved than I ever could have imagined."
"I wanted to know more stuff to do in the Tri-Cities. I had lots of questions and thought- there's nothing out there like this- let's start a kid's magazine," says Schultheiss, also the owner of Essence Photography.
It was a similar thought process for Tomasino: her questions as a parent led to wanting to help other parents with the same questions. She says, "I look for the things I want to know as a parent; those resources that I need, and the networks I need, and that's what will go into Kid's Play."
Tomasino says the first issue will hit the stands at the beginning of August. Between 8,000 and 10,000 copies will be free at grocery stories, schools, hospitals, and the fair.
"Kid's Play" will cover everything from reviews, events, health topics, a photo series, and more. Tomasino says she's most excited about the movie and book reviews, which will be done by both parents and children. Also, she says, the magazine will have an extensive event calendar.
Schultheiss says the magazine will all be local content by local writers, families, doctors, etc. He also says, as a local business owner, he's made sure to do everything, including printing, in the Tri-Cities.