DOT moves eastbound off ramp into Union Gap
Posted:
Updated: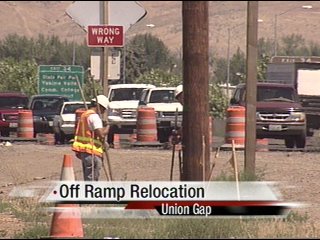 UNION GAP, Wash. -- A major shift is coming for traffic on I-82 near Union Gap. Tuesday night the Department of Transportation will be moving the off ramp for I-82 at Union Gap.
Currently, traffic exits at Valley Mall Boulevard, but in time for the morning commute a new exit will be opened right here onto Rudkin Road.
"It's a hassle getting in and getting out, but I have to say the revisions and what not I think have been handled pretty well," said Diane Crawford, manager, The Gear Jammer/AMBEST.
As traffic slows for construction on I-82, so has business. Crawford said they've taken a hit since construction broke ground. But, that will soon change. Overnight crews will move the eastbound off ramp.
"We'll have a lot of signs out here directing where to go, a little of barrel traffic control. I think it will be very accessible," said Corie Hanke, field engineer, Washington State Department of Transportation.
The eastbound off ramp will be relocated from Valley Mall Blvd to North Rudkin Road. Crews expect the change to happen seamlessly and be ready in time for the morning commute. Drivers may be tired of the slowdown, but overall crews say the project is going well.
"We've had a few minor fender benders, but nothing major and it really went flawlessly on the last traffic shift for the westbound," said Hanke.
For businesses feeling the construction crunch, a new flow of traffic down North Rudkin Road is welcomed.
"We're excited to see that happen. We're hoping that it'll help our business and give us a bump," said Crawford.
The DOT is given a letter grade for off ramp efficiency. The current off ramp is at a "D-" this new one will be rated at a "B."