Governor speaks to Blue Ribbon Commission
Posted:
Updated: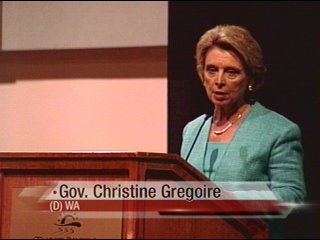 KENNEWICK, Wash-- Speaking before a Blue Ribbon Commission assembled by President Obama, Washington Governor Christine Gregoire pushed for a repository site to someday store high level nuclear waste. One of her main points: don't dismiss the Yucca Mountain site for good.
"I believe we should be looking at a deep geological repository now," she says. "I object to taking Yucca Mountain off forever--that's what the proposal is--to forget Yucca Mountain forever. Why would one do that at this point in our history?"
The governor faced the group of 15 for about an hour answering any and all questions they threw her way. Like Wednesday's tour of Hanford, this trip isn't about finalizing anything but instead gathering information.
"We will stay with our mandate. That mandate is to look at how to manage the back end of the fuel cycle," explains Lee Hamilton, who sits on the committee. "That's what we're going to look at. We're not a sighting committee. We're not going to make a recommendation with regard to place."
Safety concerns among others have blurred whatever place was once in line. But many at Thursday's meeting were still pushing for Yucca Mountain.
"The number of speakers who emphasized the importance of Yucca, we anticipated that that would be the case," Hamilton adds. "We're not surprised."