Stem cell surgery could save one 16-year-old's life
Posted:
Updated: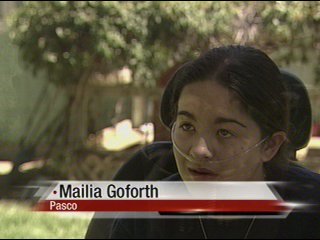 Ten years ago, one Pasco teen was told she only had months to live, but today, 16-year-old Mailia Goforth has defied the odds and continues to surprise doctors.
At the age of 3, Mailia was diagnosed with Eisenmenger's Syndrome. It's a heart defect that causes high blood pressure in her lungs and doesn't allow her to breathe on her own.
But recently, Mailia and her family took a trip across the country for a special procedure using stem cells. The hope, to fix her lungs and be one step closer to closing up a hole in her heart.
After more than a month of recovery, Mailia says the $50,000 operation worked, and she's getting stronger everyday.
She can now take out her breathing tube and even find enough energy to play outside. She tells me, after a few more operations she could be able to run, jump and do everything most 16-year-olds can do.
"It feels amazing," she said. "I know I'll be able to do everything I've always wanted to do without having to get sick anymore... just to be free at last."
Free at last from the worry and stress of her disease is what the family is wishing for. To get there, she still needs her lungs to get stronger from the stem cell surgery. Once the lung pressure goes down she will be able to have heart surgery.
To follow Mailia's progress or donate to her cause go to http://mailiasmiracle.com/
--Hilary Whittier. If you have any story ideas please email her at Hilary.Whittier@kndu.com