ATF crews will help with mill fire investigation
Posted:
Updated: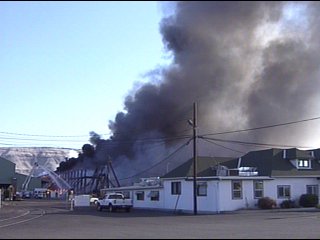 YAKIMA, Wash. -- At this point investigators are calling the fire at the former Boise Cascade Mill a devastating loss for the property owner, it doesn't look suspicious. Damages could be in the several million dollar range.
Smoke was visible for miles and the blaze put firefighters on the defensive as building 12 at the Boise Cascade mill site was consumed by flames.
"The thing could collapse without any warning," said Det. Jim Fuehrer, Yakima Fire Department.
People were woken-up by explosions and stared in awe as crews worked to save building 11 and prevent the fire from spreading to bark piles.
Willy Bethay worked for 33 years at the mill.
"That shed that's burning I used to work in that shed, I started pulling lumber, I pulled a lot of lumber by hand," said Bethay.
The log mill closed down in 2005 and is now owned by Dunollie Enterprises. They were storing items for auction in the building. Crews at the site made the 911 call, their quick action helped save building 11 and a wind blew the flames away from other structures.
"It's not a twin to it, but certainly the same size and magnitude so we could have had you know, a double, the double loss," said Fuehrer.
Fuehrer said the building is a devastating multi-million dollar loss for the company, he doesn't believe it's suspicious, but they are still working on determining a cause.
"It gets real dry out there, real dry. Alls it takes is just a spark cause everything is just flammable out there," said Bethay.
An ATF crew from Western Washington will be helping out with the investigation, again not because it's suspicious, but because of the large scale and multi-million dollar loss.