Boise Cascade Mill site ownership looking to move forward after massive fire
Posted:
Updated: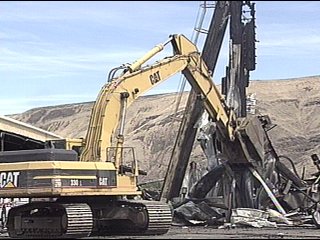 YAKIMA, Wash. -- As firefighters watch for hot spots investigators begin to comb through the rubble at the former Boise Cascade Mill in Yakima.
They are still in the early stages of what will be a slow investigation. The building was the length of about two football fields. It's going to take a lot of work to dig through the damage.
But, they do know the fire started in the South end and moved North consuming the building.
Remove debris and photograph, it's a process that will take days as investigators with Yakima Fire and the ATF determine what caused the most recent Boise Cascade Fire.
"It's going to be a little bit slow going for a while, actually it's kind of slow going all the time with a fire investigation this size," said Ron Melcher, Yakima Fire Department.
Fire crews stayed overnight to watch for hot spots. The loss will range in the millions, but Dunollie Enterprises, the property owner is trying to move on.
"You know we're just lucky and happy that no one got hurt in the process, but obviously the redevelopment effort is continuing and that's what we're focusing on," said Brad Hill, representative, Dunollie Enterprises.
Investigators say the property management is being helpful, handing over records of items in the building and providing witness testimony from the early stages of the fire.
"I think we have a pretty good fix on what was sold in the auction, what wasn't. We're obviously working our way through that with the investigators and the insurance company right now," said Hill.

"We had some people that were on site when the fire started, so that does help," said Melcher.
The building was designed to process logs so investigators will be bringing in large cranes to move some of the heavy steel structure out of the way.
Hill said they're evaluating the use of all of the buildings on the 211 acre mill site. It's not likely that they'll rebuild the structure because they're working towards developing the property.