Water Stargrass causes problems in the Yakima River
Posted:
Updated: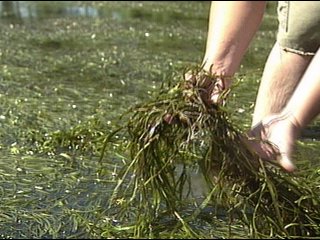 BENTON CITY, Wash.-- The Benton Conservation District is battling Water Stargrass in the Yakima River. Water Stargrass is a plant that grows underwater, with thin green shoots that can cover the bottom of the river. It gets its name from the small, yellow, star-shaped flowers that also grow in the grass. Biologists say water stargrass can be harmful to salmon and other aquatic life, also a nuisance to people who want to enjoy the river.
Salmon Biologist, Rachel Little, says the plant has become a problem over the past decade. There's a section of the Yakima near Benton City that used to be a breeding ground for salmon, she says it's now mainly water stargrass. "It's changing the shape of the river. It's changing the flow rate. It's using up oxygen in the river that makes it dangerous for all aquatic life in the river," Little says.
Dale Harkins, of Benton City, has owned property on the Yakima River for nearly a decade. He says he's seen changes in the water, explaining, "It's just really a tragedy. When I first moved here, there were a few fish that would swim in the river, but then you'd notice the grass choked them out."
It's not only affecting the fish, Little says. "People aren't able to enjoy the Yakima for recreational fishing, boating, and inner tubing, like they used to. Water stargrass, too, can plug up the irrigation screens of local farmers."
Water stargrass is native to the Yakima river, but decades ago, it was considered rare. Now, Little says added nutrients and light have caused water stargrass to grow out of control. She explains, "As we've cleaned up the river and reduced soil erosion, more sunlight gets down through to the river bed and the plant has taken over. It's a population explosion."
The Benton Conservation District has just received a $30,000 grant to work on cleaning up the Water Stargrass. The district is asking for volunteers to come help pluck it out of the river. They're going to have a volunteer work party on Saturday, July 31st. If you want more information on how to help, click here.