24 straight hours of golf in Selah
Posted:
Updated: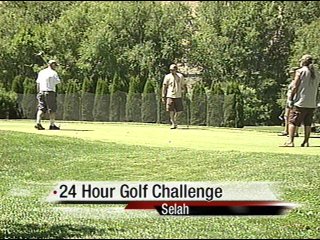 Yakima, WASH-- The Selah Relay for Life kicked off with a big event over the last two days. But it wasn't people walking around a track. They've found another creative, and exhausting way to raise money in the fight against cancer.
There's not much that's more relaxing than a leisurely round of golf. The thing is, the people on the River Ridge Golf Course in Selah passed leisurely a long time ago. They golfed for 24 hours straight.
"Exhausting. I came out here thinking I'd get better at golf by doing a lot of it but I'm worse than when I got out here", said Mike Carpmail.
But it's all for a good cause. He and the Yakima Mechanical Team were one of about 60 groups taking part in a 24-hour golf challenge to benefit the American Cancer Society.
His teammate Michelle Bartholet is an oncology nurse. She says she gets a daily reminder of why events like this are important.
"Seeing the funding be able to go to the drugs cuz they're extremely expensive and hard to get on the market", said Bartholet.
And that helped make the Yakima Mechanical Team one of only 6 teams that managed to keep golfing for the full 24 hours.
"There are people out there going through worse than us just having fun golfing. I mean yeah we're tired but we were just having fun instead of being tired and exhausted from treatment, Bartholet explained"
Golf tournaments aren't the first thing that come to mind when you think of Relay for Life events. But organizers Rich Smith told KNDO this is bringing more people to the course and to the cause.
"There are a lot of people that came out last night that would never get out and walk the track. They raised money for a good cause", said Rich Smith of the American Cancer Society.
That's translated into an extra $8,000-$12,000 for the American Cancer Society raised from the event in its first year a big enough success that Rich's already thinking about next year. They've packed up for the day but in a few weeks they'll be going for another 24 hours straight in Selah and Naches for their actual Relay for Life Event.