"Notario Publico" Immigration Scams
"Notario Publico" Immigration Scams
Posted:
Updated: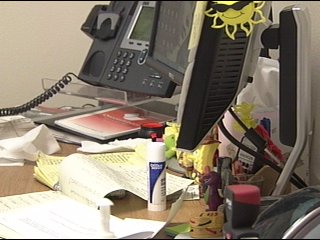 PASCO, Wash., -- Latinos across Washington state lose thousands of dollars, their jobs and the chance to live legally in the U.S. because of erroneous legal advice and a frequently exploited translation hitch. That's why the Washington Attorney General's Office today announced three new settlements with individuals accused of illegally providing immigration advice.
"In Mexico Notario means attorney. In the United States Notario means that you're at least 18, you've paid 50 dollars and you're a US citizen, nothing more," says Tom Roach, of Roach Law Offices in Pasco. Roach has been an immigration attorney in the area for 27 years and says these Notarios Publicos prey on certain kinds of individuals, "They're unsophisticated, they're Spanish speakers. They certainly don't go to the police if they're undocumented. And they get hard working farm worker types typically who go to these notorious assuming these people are attorneys."
Roach says these notaries don't care about what happens to the people, "Notarios never say to them, Just so you know I'm not a licensed attorney. I've never practiced immigration law for even 15 minutes I'm just filing out this paperwork for you and you may end up getting deported. They never say that."
The Attorney General is cracking down on these organizations and has reached settlements with four defendants in the area.
-- Frank Herrera, of Walla Walla, of Herrera's Services Unlimited. He'll pay more than $10,000 to reimburse the state's litigation costs plus restitution to eligible consumers, under the agreement.
-- Immigration and Translation Services of Yakima, and owner Adelina S. Esquivel. She'll pay more than $4,000 to reimburse the state's litigation costs plus restitution to eligible consumers, under the agreement filed in Yakima County Superior Court.
--- La Voz De Skagit, of Mt. Vernon, and owners Oscar Hernandez and his wife, Rosalinda. They'll pay a $5,000 civil penalty and nearly $6,000 to reimburse the state's litigation costs, under the agreement filed in Skagit County Superior Court.
The settlements don't require the defendants to admit any wrongdoing, but failure to comply with the terms could result in additional civil penalties. They must display signs in their offices informing potential customers that they aren't attorneys and are prohibited from giving advice about obtaining visas, work permits, citizenship or any other immigration status.
Assistant Attorney General Jim Sugarman, of the state's Consumer Protection Division, led the settlement negotiations. He said immigration is one of the most complicated areas of the law. "Only an experienced, licensed attorney can give you reliable advice on how and when to apply for a visa or citizenship," Sugarman said. "Our goal is to protect immigrants from those who aren't qualified to make those recommendations. "The Consumer Protection Division is investigating more than two dozen other notario cases and expects to bring additional enforcement actions.
Elena Perez, the public outreach and education specialist for the Attorney General's Office in Kennewick says there are about 24 companies in the Tri-Cities being investigated for providing immigration services improperly. Perez says in the last 10 months , "I've probably talked to I'd say 15 people that feel they are a victim of something similar, immigration assistant fraud…and so it's a matter of having them come in. they can file online or call our 1800 number."
She says most people are afraid to get help and file a complaint, "They are in deportation proceedings or they just don't want to call attention to themselves anymore because they feel they're in enough trouble as it is."
She says, "There is no risk with filing a complaint with our offices. It actually helps them and us prevent these people from continuing their bad business."

Here are some things to look out for and contact the Attorney General's Office if your immigration assistant:
·Advertised as a "Notario Publico" or "Notary"
· Is not registered with the Secretary of State as an immigration assistant
· Did not provide a written contract in your language
· Encouraged you to file a certain petition or document
· Did not give you a three-day right to cancel
· Claims to receive special treatment from immigration officials
· Kept your original documents
· Charged for services you did not receive
· Guaranteed results
· Threatened your immigration status for refusing to pay more money
If you believe you have been a victim of an immigrant scam, file a complaint with the Washington Attorney General's Office online at www.atg.wa.gov or call 1-800-551-4636 between 10 a.m. and 3 p.m. weekdays.