Insurance company also offers reward for information on Boise fire
Posted:
Updated: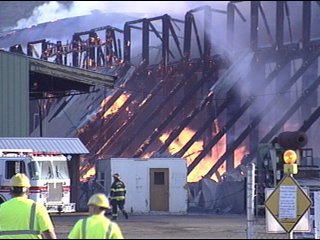 YAKIMA, Wash. - Investigators rule the fire at the former Boise Cascade mill site as arson. We found out what mill ownership is doing to help with the investigation and how much is being offered for information.
Several million dollars gone in a matter of hours and almost a week later investigators with Yakima Fire and the ATF call it arson. The property has been turned back over to Dunollie Enterprises, but that doesn't mean this is a closed case.
"We'll still be working on the investigation as it continues," said Ron Melcher, Yakima Fire Department.
Melcher said Dunollie Enterprises is cooperating with the investigation.
"Well, we've turned over all the records, anything we had that might help them in their investigation we've had all the employees at the time of the fire give interviews," said Brad Hill, representative, Dunollie Enterprises.
The planing building was built with a specialty purpose, but it was being used for storage of auction items until the fire and may have eventually been leased.
"We had a couple of people interested in leasing the building when it became available, so it could've very easily been integrated into our development plans, but obviously we're going to go in a different direction on it," said Hill.
Hill said a skeleton crew was on site the day of the fire, about 6 to 8 people, plus the normal security.
"We have 24 hour security on the property and had security on that day," said Hill.
Arson award signs are posted on the property, tips can get you a reward of up to $10,000. The properties insurance company, Indiana Lumbermens Mutual, is also offering a separate award for information, which is also up to $10,000.