Balk Gives Yakima the Win, 7-6 Over Salem-Keizer
Posted:
Updated: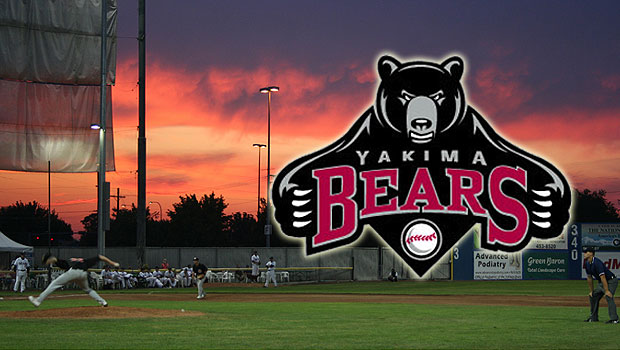 KEIZER, Ore. -- The Yakima Bears (1-1, 19-21) scored the go-ahead run on a balk to take their first lead of the game and defeat the Salem-Keizer Volcanoes (1-1, 18-22) 7-6 in 10 innings in front of 2,033 fans at Volcanoes Stadium Thursday night.

Raoul Torrez bluffed stealing home with two outs in the top of the tenth inning, causing Volcanoes reliever Shawn Sanford to flinch after coming set and draw the balk call to bring in Torrez from third and give the Bears the decisive 7-6 lead.

Jake Hale (3-2) tossed two scoreless innings in relief, allowing two hits while striking out two to earn the victory. Sanford (1-3) pitched 2 1/3 innings, allowing a run on one hit while walking three and striking out two to take the loss.

Yakima fell behind 4-0 in the first inning, thanks in large part to a three-run homer off the bat of Volcanoes shortstop Carter Jurica - his second of the season - to drive Bears starter Miles Reagan out of the game after just one inning.

The Bears then got a large chunk back in the third inning, with a two-run double by Zach Walters and a Yazy Arbelo RBI single, making the score 4-3.

After the Volcanoes tallied two more in the fifth, the Bears tied the game for the first time in the top of the sixth behind a Kawika Emsley-Pai RBI double, a passed ball, and a Mike Freeman sacrifice fly.

The Bears squandered a lead-off double in the eighth, and runners on first and second with no outs in the ninth before taking the lead in the tenth on the balk.

Freeman went 3-for-5 for the second consecutive night with a run scored, an RBI and a stolen base.

Yakima and Salem-Keizer will be back at it for game three of the five-game series Friday night at 7:05. Andrew Berger (1-1, 6.14 ERA) is expected to get the start for the Bears against Taylor Rogers (3-2, 3.57 ERA) for the Volcanoes.