Yakima Valley's National Night Out
Posted:
Updated: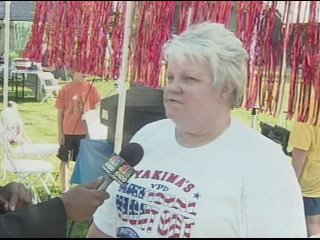 YAKIMA COUNTY, Wash. -- Communities from all across the Yakima Valley are holding their own National Night Out parties Tuesday.
It's a crime and drug prevention event for the family.
National Night Out will be held at the following locations:
Yakima Police Athletic League (PAL) - 4-8pm at 602 N. 4th St. For info, call 575-6180.
Community Expo and Health Fair - Hosted by Next Step Housing at Yakima Regional's southeast parking lot, 711 W. Walnut. Open to everyone, free BBQ, fun family activities, blood pressure screenings, and more. For information, call Laura at 457-8771 or 575- 5282.
Southeast Community Center Park - 5-8pm at N. 7th St. and E. Arlington. Open to everyone and will include much information on creating safe communities. There will also be activities for kids and adults as well as food and other treats. For information, call 509-248-2021, x112.
Franklin Pool, 2102 S. Tieton Drive , Yakima - enjoy a safe and fun-filled environment that is free for all participants. Free swim: 5-7pm and 7:15-9pm. For information, call 575-6035.
Louden Park - 6:30-8:30pm at corner of 4th and Pine in Union Gap. For information, call Scott Steinloski, 509-480-7636.
Selah - Block watch groups will have five block parties. Residents may call the police department at 698-7347 to inquire about the nearest location or report their own event.
Parker Heights Property Owners Assn. and Buena/Zillah Property Owners Assn. - 6-8pm at the Parker Heights EPIC facility at the intersection of Yakima Valley Hwy. and Konnowac Pass Rd. Hawaiian dancers, burgers, hot dogs, refreshments, and several childrens' activities along with informational booths, music and more. For information, call 877-3151.
Zillah - 6-9pm at Loges Park, Railroad Ave. and Seventh St.
Wapato City Park, South Camas Ave., Wapato - 6-9pm - for information, call Angela Stiner, 509-877-4275.
Toppenish - 6-8pm, free swimming at the City Pool, 20 Asotin Ave.
Granger - 6-8pm at Granger City Park on Main St.
Sunnyside - 5-9pm - Central Park. For information, www.ci.sunnyside.wa.us <http://www.ci.sunnyside.wa.us>.
Grandview - 5:30-7:30pm at Westside Park. For information, call 509-840-0119.