Hanford's ERDF is ahead of schedule
Posted:
Updated: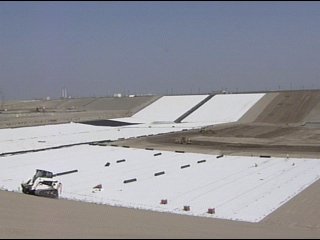 RICHLAND, Wash – The $100 million Recovery-Act funded by expansion and upgrade of Handford's Environmental Restoration Disposal facility is more than halfway done, and four months ahead of schedule.
Washington Closure Hanford has operated ERDF for the U.S Department of energy since it assumed management of the River Corridor Closure Project in August of 2005. Since that time, workers have disposed nearly tens million tons of containment materials.
The site is currently undergoing it fourth and largest expansion project. Each day the site gets 400 containers of waste for disposal. Each container averages 22 tons of material. The expansion project includes the addition of super cells #9 and #10, which will increase capacity by fifty percent, and be able to hold 5.6 million tons of slightly radioactive plutonium soil waste.
Project Director for WCH waste disposal, Bruce Covert says the project is also putting at least 200 people to work at the site. "What is really exciting about this project and the $100 million that we're afforded to spend here is really that we're touching the community and we're bringing people, local companies in, small business, working with them on how do you do work at a DOE facility. And really I think we're putting a lot of people to work in the Tri-Cities," says Covert.
Covert says besides the 200 employees that work on the ERDF site, all together some 20 local businesses do work for this project, everyone from engineering design to general contract work.