SEATTLE 2010: Saturday Heat Winners at Seafair [ UPDATED ]
Posted:
Updated: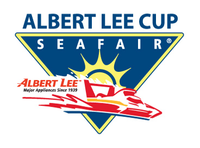 Seattle, WASH -
August 7, 2010
The race for the Albert Lee Cup at Seattle's race stop for the H1 Unlimited Hydroplane fleet kicked off Saturday with the two top performers for the season, Dave Villwock and Steve David, in opposite heats.
Heat 1A
Steve David and the U-1 Oh Boy! Oberto had lane 1 and rode it to victory in Heat 1A at Seafair on Saturday. The U-17 Red Dot finished in second place with Kip Brown behind the wheel.
"We're still working towards that National Championship," said Steve David on WORX's live radio broadcast. "Boat's great, engine's in good shape, I think we've got the right gear box."
Heat 1A Results
U-1 Oh Boy! Oberto – Steve David

U-17 Red Dot – Kip Brown

U-100 Lays Kettle Cooked – Greg Hopp

U-13 Jillians Spirit of Detroit – Cal Phipps

U-37 Peters & May – Jon Zimmerman

U-21 Albert Lee – Brian Perkins
ONE MINUTE PENALTY - HIT BUOY
Heat 1B
J. Michael Kelly hit the start fast, taking the lead with Dave Villwock just a tick behind. By the time the hit the first turn, though, Villwock had grabbed the lead. By the back side of the first lap, Villwock had opened up a three-quarter roostertail lead.
Kelly and Jeff Bernard tied up for what looked like a great duel. Kelly slowed to grab the inside lane, but Bernard held him off, flying the boat. Kelly ran through his roostertail slightly and had to back off.
Villwock roared to a comfortable lead and took the smoothest ride around the course. Bernard finished second on the water, but was told to take an extra lap due to a potential penalty.
UPDATE: After review, it was determined that Bernard did not have the required distance between the overlap of U-5 and U-7. Bernard changed lanes, which caused Kelly to go through his wash. He was penalized a lap, moving Bernard from a 2nd place finish to 5th.
Heat 1B Lane Results - Unofficial
U-96 Spirit of Qatar – Dave Villwock

U-7 Graham Trucking – J. Michael Kelly

U-57 Miss WA Truck Dispatch – Mark Evans

U-22 Matrix Systems – Mike Webster

U-5 FormulaBoats.com – Jeff Bernard
ONE LAP PENALTY - CHANGING LANES WITHOUT PROPER OVERLAP

DNS. U-25 Car Pros – Ken Muscatel