Looking for revenue after wind farms are built
Posted:
Updated: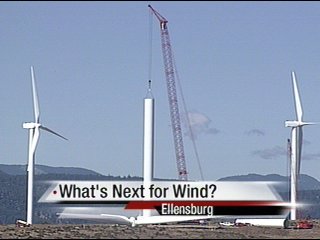 ELLENSBURG, Wash. - As turbines continue to go-up across Kittitas County we got a look at the newest wind farm by Horizon Wind Energy.
You can see the towers going up, Horizon Wind Energy is a quarter of the way done with their 100 mega watt wind farm, the project is just northwest of Ellensburg.
Horizon is the third of four wind farms approved in Kittitas County. Currently, it's pumping a lot of money into the local economy, with lodging, food and equipment maintenance.
"During construction we'll spend probably eight or nine-million dollars in that eight months," said Tom Burke, construction manager, Horizon Wind Energy.
After completion the site will contribute about one-million annually in taxes, but economic developers are looking to capitalize further on the wind industry.
"The thing that I would like to do, what we're working on now is trying to figure out how we can get some support industries, maybe for the wind industry in general," said Ron Cridlebaugh, executive director, Kittitas County Development Group.
Cridlebaugh hopes to bring in parts manufactures and specialty schools related to the wind industry because you can only build so many wind farms.
"The [power] grid is really going to be what will determine the amount of wind farms," said Cridlebaugh.
Horizon's wind farm should be complete by Thanksgiving. The Desert Claim Wind Farm by enXco is suppose to break ground next spring, becoming the fourth wind farm in Kittitas County.
In the meantime economic developers ask this question.
"How can you benefit from it in the long term, other than just the tax base?" said Cridlebaugh.