Stimulus money goes to capping tank farm
Posted:
Updated: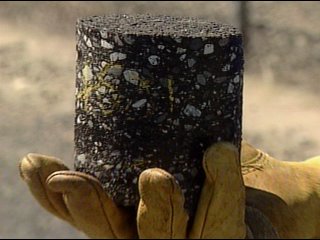 NEAR RICHLAND, Wash. - The Department of Energy is working to keep millions of gallons of nuclear waste from entering the soil or water table by using asphalt.
"We don't want the situation to get any worse and this is very helpful for the environment because it keeps the water from moving the contaminates even further," said Dan parker, project manager of the TY Tank Farm.
The project costs more than $3 million and is funded through stimulus dollars.
"It's a six tank farm. It was built in the early 1950's and five of the tanks are assumed leakers. We are in the process of building an interim barrier over the farm."
The interim barrier is made from a modified asphalt material and will completely cover the six tank farm. Each tank has over 750,000 gallons of nuclear waste and if it's not capped, contaminates could leak further in to the soil or the water table.
"The barrier is designed to prevent rain water and snow melt from flowing through the soil in the tank farm. So it collects that water before it has a chance to go into tank farm soil."
But before the water has a chance to go into the tank farm soil, it will flow from the barrier to a basin that will help evaporate the water.
"So the water that is collected off the top of the barrier us going to flow through a pipeline that runs under the road on the other side of the tank farm and goes to a basin we dug on the other side of the desert."
The TY tank farm is the second of six tank farms in Hanford to get the interim barrier. They hope to complete the project by September and then move on to the next one.