Three WSP employees killed in Zillah house fire
Posted:
Updated: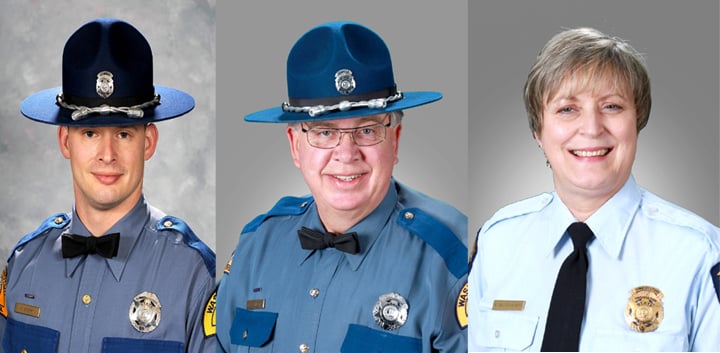 Photo courtesy of WSP. L to R: Trooper Kristopher Sperry, 30, Trooper Gary Miller, 55, Communications Officer Anne Miller-Hewitt.
***UPDATE*** ZILLAH, Wash. - Investigators with the Federal Bureau of Alcohol, Tobacco and Firearms are on scene Monday night in a large scale effort to find out what caused a fatal house fire in Zillah. Investigators have found one body and two more are believed to be in the ruins of the home.
It was the home of Trooper Gary Miller and Anne Miller-Hewitt, a communications officer. Also living at the residence was Trooper Kristopher Sperry. Neighbors and troopers we're surprised and saddened when they found out it was the Miller's home.
"Just a nice guy all the way around, he'd do anything for ya," said neighbor Ken Johnson. He's known Gary Miller for years, coaching his sons in cross-county.
Fellow troopers have the same thing to say, Miller was respected and loved. Miller-Hewitt was recently promoted to Wenatchee as a communications officer and had also been with the WSP for over 20 years. Their Zillah home caught fire around 1:00 in the morning.
Trooper Sperry, a recent academy graduate, was staying with the Miller's while his new home was being built. He's from Eureka, MT. Troopers say it wasn't unusual for the Miller's to house new troopers.
While investigators have recovered one body, they're still working to identify the victims.
"But all indications are that the State Patrol lost three members of our family in a tragic house fire this morning," said Lt. Jim Keightly, Washington State Patrol.
Lt. Keightly, visible shaken by the loss has known the Miller's for much of they 20 plus years of service.
Federal agents with the ATF are taking over the investigation. Currently, the cause of the fire is unknown.
"We hope to determine that they are the experts and have no doubt that they'll be able to come up with the cause in the near future," said Keightly.
Law enforcement from all over have converged on the scene, doing what they can to help and sharing stories of the friends they've lost.
"The magnitude of this loss is just horrific to comprehend," said Keightly.
ZILLAH, Wash. -- ***UPDATE*** Yakima Sheriff's deputies say they've located the body of one of the three Washington State Patrol employees killed in Monday's house fire on Falcon Ridge Road.
Deputies found one of the bodies around 4:35 p.m. inside the home. They have not released the name of which victim was found. The case is still under investigation.
WSP Sgt. Tom Foster confirms the three as Trooper Kristopher Sperry, Trooper Gary Miller, and Anne Miller-Hewitt.
Another patrol spokesman said Miller-Hewitt is a communications manager for the State Patrol's Wenatchee office, married to Miller. They lived at the residence on Falcon Ridge Road, off Cheyne Road. It started around 1 a.m. Monday.
Yakima County Coroner Jack Hawkins says the Bureau of Alcohol, Tobacco, Firearms and Explosives is investigating.
The Washington State Patrol sent this press release:
THREE WSP EMPLOYEES BELIEVED KILLED IN HOUSE FIRE
(Olympia)—With deep regret, the Washington State Patrol today announced the apparent deaths of three agency employees in an early-morning house fire in Zillah.
Believed killed were Communications Officer 4 Anne Miller-Hewitt, her husband Trooper Gary Miller, and Trooper Kristopher Sperry. The Millers owned the residence. Sperry had recently graduated from the State Patrol academy and was living with the Millers.
"Ann and Gary were long-time employees, and were the best of the best," said State Patrol Chief John R. Batiste. "We were just getting to know Kristopher, but he had excelled at the Academy and had a very promising future with our agency."
Investigators have not yet entered the fire scene, however there is no evidence that anyone survived or escaped. The State Patrol has never lost three employees in a simultaneous event, either on or off-duty.
"Right now, our priority is supporting the co-workers of Anne, Gary and Kristopher," Batiste said. "They are understandably devastated by this tragedy and we have no higher priority than helping them get through this difficult time."
Batiste released brief biographical details of each.
Anne Miller-Hewitt held the rank of Communications Officer Four, the civilian equivalent of lieutenant. She led the State Patrol's 911 center in Wenatchee, supervising 15 of the agency's dispatchers. She was hired in 1987, and promoted to her present rank in 2007.
Trooper Gary Miller, 55, was hired in 1989 and was commissioned in 1990. He had been assigned to the agency's Sunnyside detachment area since that time.
Trooper Kristopher Sperry, 30, was hired in 2008 and graduated with the 97th Trooper Basic Class in June 2010. His hometown was Eureka, MT. While in the Academy received the Top Fitness award as the most physically fit cadet in his class. Sperry was living with the Millers while his own home was being built.
The residence, on Falcon Ridge Drive north of town, was completely destroyed. The fire investigation will be handled by local fire officials, the Yakima County Sheriff's Office, and the Bureau of Alcohol, Tobacco, Firearms and Explosives.
The State Patrol's Crime Scene Response Team, working out of the agency's Crime Lab, will be providing assistance in gathering forensic evidence at the scene.
Family notifications have been completed.
L to R: Trooper Kristopher Sperry, 30, Trooper Gary Miller, 55, Communications Officer Anne Miller-Hewitt. Photo courtesy of Washington State Patrol.