Child rescued by Les Schwab employee
Posted:
Updated: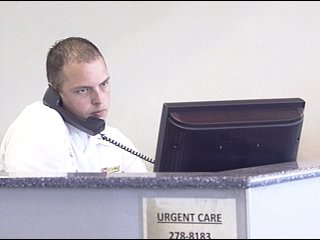 PENDLETON, Ore. -- A toddler is alive after an employee at Les Schwab in Pendleton used skills he learned from a CPR class. This after a mother pulled into the parking lot because her child was seizing and couldn't breathe.
It all happened Tuesday. Josh Cyganik has worked at the Les Schwab in Pendleton for almost seven years. He says nothing like this has ever happened to him.
Cyganik says a mother ran into Les Schwab saying her child wasn't breathing. Without thinking, he ran to the parking lot.
"I run up to the oldest son. He's holding the child in his arms, and he's limp, not breathing, there was white stuff in his mouth. So I grabbed that child in the kids arms, and I put the child on my forearm, lay him on his side, and I give him a good three whacks," says Josh Cyganik.
The toddler started coughing and eventually breathing. Then paramedics showed-up. The child was taken to the hospital and is now in stable condition. Cyganik thanks his CPR training for five years ago and thoughts of his own son.
"I have a child close so that child's age. While I was holding that child that's what I was thinking was about my son," says Gyganik.
He says he isn't superman, just someone who was at the right place at the right time. But for now, customers are listening to his story, and calling him a hero.