Kelly has three rushing scores as #25 CWU defeats Red Storm
Posted:
Updated: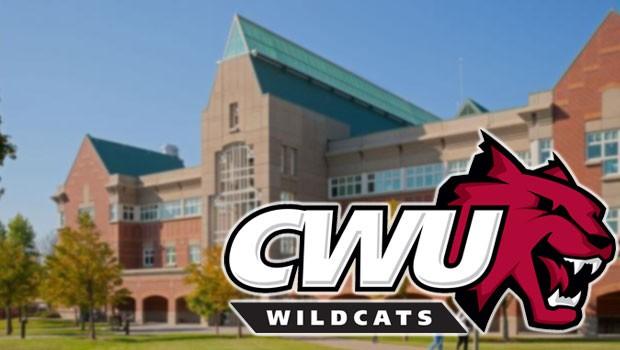 ELLENSBURG, Wash. (Sept. 18) -- Senior running back Bryson Kelly (Mukilteo, Wash./Kamiak HS) scored three rushing touchdowns, and the Central Washington University Wildcats bolted out to a 30-7 halftime lead en route to a 43-21 football victory over visiting Dixie State College of Utah on Saturday afternoon at Tomlinson Stadium.

The Wildcats, ranked 25th in the American Football Coaches Association (AFCA) Division II poll and 14th in the D2football.com poll this week, evened their record at 2-2 (2-0 Great Northwest Athletic Conference) with Saturday's win. Dixie State remained winless at 0-4 overall and 0-3 in the GNAC.

Kelly had 88 rushing yards on 16 carries and scored the first of his three touchdowns with 9:57 to go in the first quarter as Central jumped out to a 16-0 lead at that point in the game.

The Wildcats scored on their first defensive series of the game, as a bad snap on Dixie State's second play from scrimmage sent the ball out of the back of the end zone for a 2-0 CWU lead just 54 seconds into the game. The lead then went to 9-0 after Central's first offensive series, as sophomore Ryan Robertson (Sammamish, Wash./Eastlake HS) connected with senior Jamal Weems (Seattle, Wash./Cleveland HS) on a 25-yard scoring play at the 12:15 mark.

Kelly's touchdown, which was followed by one-yard TD runs in the second and third quarters, then came on the second play from scrimmage of the Wildcats' second offensive series. After gaining possession at the Dixie State 41, Kelly had an 11-yard carry to set up the 30-yard score.

Neither team scored again until Central's first possession of the second quarter, which was aided again by good field position as junior Taylor Tanasse (Yakima, Wash./West Valley HS) recovered a Cody Stevenson fumble after linebackers Paul Wright (Martinez, Calif./De La Salle HS) and Jared Silva-Purcell (Honolulu, Hawaii/St. Louis HS) sacked Stevenson at the Red Storm 11, and four Kelly carries later, the margin was up to 23-0.

Another turnover by Dixie State was immediately converted into points for Central Washington, as senior Adam Bighill (Montesano, Wash.) forced a fumble deep in Red Storm territory and redshirt freshman Stan Langlow (University Place, Wash./Curtis HS), who would later have an interception as well, returned the fumble 22 yards to push the lead to 30-0 with more than 11 minutes left in the opening half.

Dixie State broke the shutout on a 28-yard scoring run by Justin Ence with 6:38 left in the first half, making it a 30-7 halftime count.

In the third quarter, the Wildcats again ascended down the field into Dixie State territory and capped their first possession of the period with a 43-yard field goal by sophomore Sean Davis (Federal Way, Wash./Todd Beamer HS). Davis would also add a 46-yard field goal in the fourth quarter to cap Central's scoring for the game.

Kelly's final touchdown came with 6:04 left in the third quarter, which at the time gave CWU a 40-7 advantage. It marked the first three-rushing score game by a Wildcat since last season, when Randall Eldridge had three rushing TDs in a 34-27 win at Humboldt State on Oct. 10.

Statistically, the final quarter belonged to Dixie State. The Red Storm, who had scored exactly 14 points in each of its first three games this season, totaled 99 yards of offense and two touchdowns in the final 15 minutes. The first of the DSC touchdowns was an eight-yard pass play from Stevenson to Kyser Christensen just 10 seconds into the fourth quarter, and reserve quarterback Spencer Young found Zach Fox on a nine-yard scoring play with 19 seconds remaining to complete the day's scoring.

Central Washington finished with a minimal edge in total offense, netting 278 yards to Dixie State's 270. The Wildcats did so despite a seven-minute disadvantage in time of possession and 165 yards in penalties -- the program's highest single-game total since 2004.

Robertson completed 14 of 21 passes for 177 yards, and Kelly spearheaded the Wildcats' run game with 88 yards. Nine different CWU players had at least one reception, with only junior Justin Helwege (Sammamish, Wash./Eastlake HS) pulling in more than two on the afternoon. Helwege had three receptions for a team-high 47 yards.

The Wildcats contained Dixie State on the ground, holding the Red Storm to 27 net rushing yards. Ence finished with 57 yards on 13 carries. Quarterback Stevenson completed 20 of 32 passes for 197 yards and was intercepted once while throwing one scoring pass, and Nash Fowler led all players with seven catches for 96 yards.

On defense, Wright, the reigning GNAC Defensive Player of the Week, finished with a game-high 10 tackles despite resting for most of the second half. Fellow linebackers Silva-Purcell and Bighill added six stops each, and redshirt freshman Turner Lee (Sammamish, Wash./Eastlake HS) had three total tackles including two quarterback sacks in his Wildcat debut. Twenty-six CWU players were credited with at least one tackle in the contest.

Central Washington, which has now won 33 consecutive games against current or former members of the Great Northwest Athletic Conference, will play consecutive road games over the next two weeks at Simon Fraser (Sept. 25) and Humboldt State (Oct. 2). Following the Wildcats' venture to HSU, they will play their final five games of the year in the state of Washington, including four at Tomlinson Stadium.