Local man abuses medical marijuana rules
Posted:
Updated: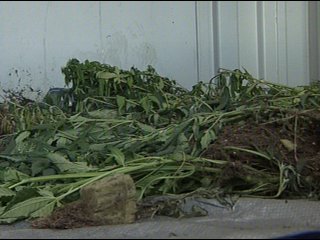 KENNEWICK, Wash. -- Last week, police made arrests in two separate marijuana busts involving people with permits for medical marijuana.
When police raided a Finley home last Friday, Sept. 17th, they found an eye boggling display of marijuana and lighting equipment from Brent Heroux who had a legal permit for medical marijuana. State law says people like Heroux can only possess up to 15 plants, but Lieutenant Joe Lusignan of the Benton County Sheriff's Office says he had a whole lot more.
"They found in excess of over 160 marijuana plants as well as the grow equipment which is much in excess of what is allowed by law for an individual growing his own medical marijuana," said Lusignan.
Homeowners like Clarence Zimmer, say drug activity at this house is nothing new, adding a constant stream of traffic has flowed through the house on a daily basis.
"There were cars coming in the middle of the night, two, three o'clock in the morning and they weren't leaving. As a matter of fact, after the bust, there was one car that came in the middle of the night," said Zimmer.
When medical marijuana was first legalized in the state of Washington in 1998, Captain Scott Child says the law enforcement community had a difficult time determining how to enforce marijuana and illegal drug use, but now the rules are very clear.
Child explained, "it didn't take long for us to figure out we still enforce the law, and if people have it, they're going to have to prove it and typically speaking we'll still take enforcement action."
The Sheriff's Office says their investigation will continue and that they are currently looking at several suspects who they believe are involved with this incident.