Future is unknown for a historic carousel
Posted:
Updated: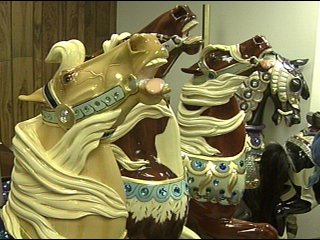 KENNEWICK, Wash. -- People from all over the country were in Kennewick on Wednesday visiting dozens of 100 year old horses. It's all a part of the future Three Rivers Carousel.
Visitors came from as far away as New York, and they all had one thing in common: a passion for carousels. It has been a topic in the Tri-Cities since 2003. And now that the horses are refurbished and ready to go, there's still a lot to do, including raising money and finding a location.
KNDU met Suz Schalon, one of 70 people who were visiting the future Three Rivers Carousel as part of the 37th Annual National Carousel Convention going on in Spokane. Suz's story is a little different; she rode these exact horses when she was a kid in Saint Joseph, Michigan.
"They are part of generations of memories and history of the united states. There were thousands of small amusement parks and carousels, now only hundreds exist," said Schalon.
Those hundreds of carousels that do still exist, include the horses from 1910, that are now locked up in a city shop in Kennewick.
Ken Johanning, with Three Rivers Carousel said, "I think it's a treasure, it's a jewel. I mean this is world art. This isn't just entertainment...it's world art."
This world art has already cost the City of Kennewick about $866,000. The city is a big partner with the Three Rivers Carousel Committee but it's up to the committee to raise the rest of the money, which could be up to $2.5 million. They hope to raise the money through private donations.
Kennewick Mayor, Steve Young said, "If we can't raise the money, we being the foundation. If we can't raise the money we need to sit down and figure out what we are going to do with what we have. We have tax dollars invested in this and we just can't let it sit there." Other residents like Schalon don't want that either.
The Carousel Committee plans to meet with the Kennewick City Council next month to discuss their strategy for raising money and hopefully, to pick a location. Some of those options include the Three Rivers Entertainment District or somewhere in Columbia Park.