US Navy Officer welcomed home to Kennewick
Posted:
Updated: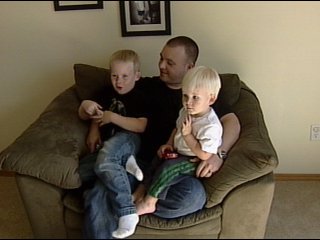 KENNEWICK, Wash.,-- A "Welcome Home Dad," sign proudly hangs in front of Chief Petty Officer David Gwinner's Kennewick home on 4th Avenue. The 16 year officer with the US Navy came home from Bahrain Tuesday afternoon after being deployed in October of last year.
His wife Meggan and two boys, ages one and four were overjoyed to see their dad and husband again. Meggan says, "I found out Monday afternoon that he was coming home yesterday. It's surreal. All day yesterday, I just stood back and watched him play with the boys and the dog. It's been nice but surreal."
David has been on a humanitarian mission for the last 11 month in Bahrain, off the coast of Afghanistan. "We've been involved in all kinds of operations, ranging from the global war on terrorism mission that we did out there. And we dealt with some piracy missions out there too," says Gwinner.
He says the hardest part was being away from his family. "The last few months had been really hard on us. Emotionally it was taking a lot of stress. The wife was having a hard time. They have one of the hardest jobs, in my eyes, taking care of the family and the home front and stuff like that."
He says his kids are very young and are adjusting to having dad back in their lives. "My little one he was skiddish because I was gone for a little over half his life now. He'll be two in January. My oldest son, the first words that came out of his mouth were, 'Do you remember me?' Which is really heartbreaking. It really hits home when you've been gone for so long," says Gwinner.
But Braydon, who will be five years old next weeks says he loved the surprise. "I was playing in the backyard and my dad came through the gate and he surprised me and said what's going on here," said Braydon. He said he definitely remembered Dad and was glad dad remembered him.
Chief Petty Officer leaves for duty in San Diego in a month. He will then be re-deployed to Everett and will go back over seas.