Rare grapes stolen from Red Mountain vineyard in Benton City
Posted:
Updated: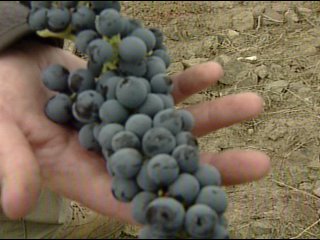 BENTON CITY, Wash. -- 1,000 pounds of rare grapes were stolen from Grand Reve, a vineyard at Red Mountain in Benton City this week. The manager and partner, Ryan Johnson noticed 70-80% of the Mourvedre grape was gone Wednesday.
He says, their Grand-Reve would have been the first vineyard in Washington to harvest such a rare grape. "This would have been our very first effort with this fruit. It was three years in the making. We planted it in 2008, and more importantly than the financial loss, we were hoping to gain some information after we picked it and made wine from it. This is new for this area and its new for this vineyard. And this training style isn't seen all that often in Washington state. With that information it would have influenced some of our future planting decisions. So now we have to wait another year to find out what its potential may have been."
Lt. Joe Lusignan with Benton County Sheriffs' Office is investigating. He says he's never seen crop theft in such an amount. "Individually you may have a crate of apples stolen, kids walking through an apricot orchard and steal some cherries or something like that, but not to this scale. This is a ton of grapes. "
The grapes were a loss of anywhere from three to five thousand dollars. But owner Paul McBride says, the harvest would have been able to make them about 600 bottles of wine and that would gross them about $36,000.
Johnson says the crooks went right for the Mourvedre, " Interestingly enough, they could have grabbed this cabernet right across the driveway. Which is in a nice line and easy access. This vineyard has been in a few magazine articles, maybe they read something about the grape."
He says what's even more annoying is that the crooks picked the grapes about 10 days too early. "If these guys would have waited 10 more days, the flavors would have been more developed, richer, riper, and they would have made a better wine from it. So if you're going to steal my fruit, at least do it at the right time," says Johnson.
Johnson says they have about 100-200 pounds of the grape left and they'll likely mix it with other grapes to make a new wine. They are offering a five thousand dollar reward for any information that leads to an arrest of the thief or thieves. If you know anything, contact the Benton County Sheriff's Office, 509-628-0333.