Vet Corps Help program at WSU in Richland
Posted:
Updated: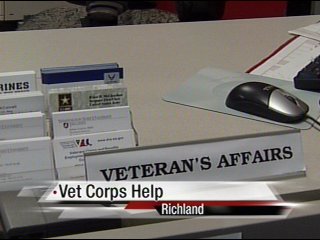 RICHLAND, Wash -- Washington State University in Richland has a program designed to help veterans transition into the classroom after serving in the military. This is second year for the pilot program, Vet Corps Help, at WSU. The coordinator, Jason Alves says there are is an abnormally high number of vets in the Tri-Cities, and also on campus about 135. He says there are even more at Columbia Basin College and he often works with vets from both schools because of the high demand for services. "There's a lot more veterans for me to see here to help out to get back into the community.. But there's a lot more jobs here for them to get into. With tri-cities having one of the better economies in the nation really, with all the contractors out in Hanford. They actually get tax deductions. They get help if they hire veterans. It makes sense for them to all come here to go to school," says Alves.
There are 32 navigators just like Alves in the state of Washington. They are trained to make the transition easier. Their services include; explaining the different benefits available to different vets, helping them file for financial aid, getting them the right tuition stipends, explaining the G-I Bill and even getting counseling for those who need it. They reach out into the community to get vets established, often helping ht em find jobs.
If you're a veteran that needs such services, contact Jason Alves, the Vets Corps Coordinator at W-S-U, 509-372-7143.