Giant octopus causes a giant controversy in Downtown Walla Walla
Posted:
Updated: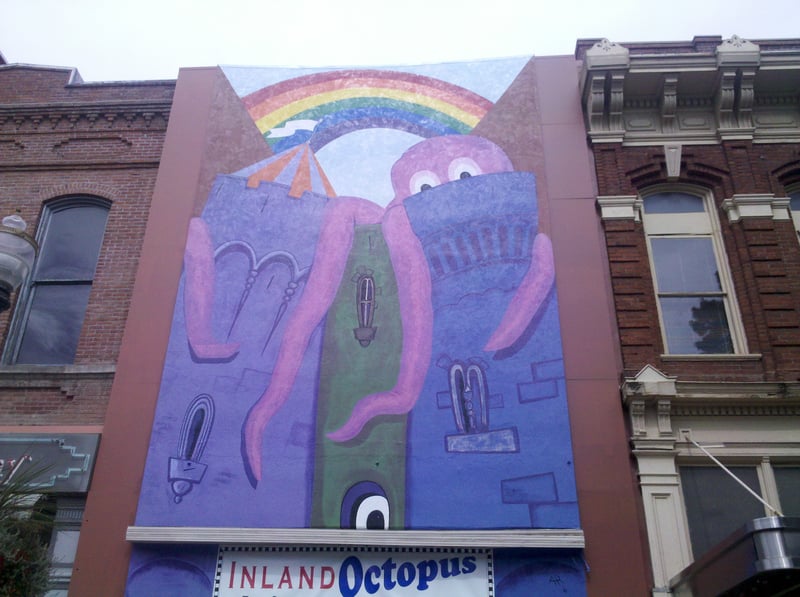 WALLA WALLA, Wash. -- Some artwork outside of the Inland Octopus store in downtown Walla Walla has been causing a lot of controversy.
Is it a mural, or a sign? Whatever you are calling it, one thing is for sure; it is creating quite a stir. A big enough stir for the owner to send out a letter about the artwork outside his store. It says some people like the art at Inland Octopus, and of course, some don't. All Bob Catsiff wanted to do was make the toy store special, and help it to stand out from others.
Catsiff, the store owner, says, "this is just one step in me creating the best toy store in the world and it's just something that needed to be done and eventually I just did it."
Walla Walla City Manager, Nabiel Shawa says , "before I take any action on this, City Council wanted the opportunity to allow the public to address the council on the subject."
Shawa says a public meeting is tentatively scheduled for October 11th. Once they hear from the public they will decide whether or not the art needs to be taken down.
Here is the letter that Shawa sent:
An open letter to the City Council and the Citizens of Walla Walla
I have a lofty goal. I am trying to create the greatest toy store in the world. The outside of my store needs to exemplify that ideal. When I moved my store to its current location, I had a wonderful opportunity to do this. The front of the property was clad with an obtrusive white façade that had no historical significance.
In April of this year, the Downtown Foundation, supposedly acting on my behalf, approached the city with a sketch of the mural I wanted to paint on this façade. It was reported back to me that the City Manager stated it would not be approved for various reasons, one of which being that it was too cartoonish. My question then was what law, code, statute or ordinance gives the city, or any other entity other than my landlord, the power to tell me what to paint on my store front? This question was purportedly relayed to the city several times. Eventually, the answer came back to me that it was public art and therefore fell under the jurisdiction of the Department of Parks and Recreation and that I would have to sit down and talk with its director. Really?
At this point, I realized that there probably was nothing on the books that would prevent this, but if I kept going there would be.
I then started to research the city codes on my own. I specifically looked at the sign code and I specifically looked at the code's definition of the word sign which I have included as a footnote to this letter. I superimposed an early draft of the mural onto a picture of the store front. This draft had essentially the same components as the now completed mural. I showed this picture to a city official who administers the sign code on a daily basis. His assessment was that the verbiage at the bottom was a sign and the mural itself was not. On separate occasions, I asked two senior city staff members if they could tell me what codes or ordinances I would need to adhere to. Both times they said they would get right back to me. Guess what?
Now that the mural is completed, some people do not like it. Some have complained to the city. Their complaints are based on their opinions that it does not fit in downtown Walla Walla, that the artwork itself is distasteful, or that I did it without permission.
In responding to these complaints, the city now asserts that my mural is a sign. The definition of the word sign in the code (footnoted below) is so hopelessly open-ended that any and everything could be considered a sign. This opens the door for selective interpretation of the code. When this interpretation is driven by artistic opinions or a design committee with no legal authority, it then becomes an infringement on my right to freely express myself.
Lastly, I do not want this to be a battle. I have thus far resisted numerous appeals from my supporters to start a petition. I hope that the City Council realizes at some point that this is not a simple case of code enforcement. It is a more complex case of code interpretation. The City Attorney has interpreted the code based on the code's definition of the word sign. He is a consummate professional and has done what he was asked to do. I absolutely bear him no ill will. However, this unconstitutionally vague and overbroad definition is totally indefensible in a court of law as well as in the court of public opinion.
Bob Catsiff
Inland Octopus
From Walla Walla Municipal Code 20.204.04
"Sign" means any device, structure, fixture (including the supporting structure) or any other surface that identifies, advertises and/or promotes an activity, product, service, place, business, political or social point of view, or any other thing.