Students talking about illegal immigration
Posted:
Updated: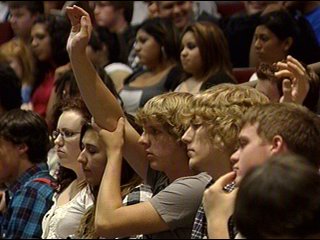 KENNEWICK, Wash.—Kamiakin High School students listened to a debate on illegal immigration Tuesday.
Many students say illegal immigration has been a hot topic in their classes and with their friends and families prior to the debate. But listening to the discussion Tuesday helped them to form their own opinions or see the other side to the issue.
"This is definitely a topic that has been in a lot of my classes over the last four years," says Shelby Sawyers, Kamiakin Senior.
Thomas Roach, local Immigration Attorney, and Bob Park, Kennewick City Councilman, debated the issue while the students listened in.
"I just learned more information like I could see the other side of the debate that was good, and I also got more statistics for my opinion," says Brandon Meadors, Kamiakin Senior.
"Overall it was a good experience for everyone, and I think we all learned from it," says Andrew Sandoval, Kamiakin Junior.
Teachers say the debate was not meant to sway the student's opinion. The purpose was to help inform the students to create their own views.
"The students actually voted that they wanted to discuss the Arizona law. And in talking and in conversations, providing them articles, and different aspects of that law, it became apparent that they really were operating on some misconceptions," says Shelly Crump-Peterson, Kamiakin Teacher.
She says she wanted the students to get involved in real issues, and show they can make a difference in current affairs.
"It's good to see that high school kids can be accounted for something besides just parties, and we can show that we have an intellectual side," says Brandon Meadors, Kamiakin Senior.