Painting roofs white saves you green
Posted:
Updated: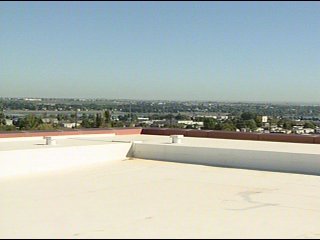 RICHLAND, Wash, -- Energy Secretary Steven Chu said painting roofs of buildings white could contribute to the fight against global warming. "Cool roofs are one of the quickest and lowest-cost ways we can reduce our global carbon emissions and begin the hard work of slowing climate change," said Chu in July, while announcing that Department of Energy buildings would be painted white wherever possible.
Here in Richland, the new Gesa Credit Union building on 51 Gage Boulevard is one of the "greenest" buildings in town, and the first to have a special white roof. The Assistant Vice President of marketing, Timothy Andrew says, "the white roof is designed to reflect back the sunlight, back into the sky, also reflecting back the heat that comes with it, so that our cooling systems don't have to work as hard to keep the building cool and therefore saving energy.'"
The roof is made from TPO membrane, which can keep a building up to 45 degrees cooler on a summer day.Another important characteristic of TPO membrane is its high level of reflectivity. Because of this, white TPO membranes can meet and even substantially exceed the U.S. Environmental Protection Agency's ENERGY STAR performance levels.
TPO membranes are highly resistant to mold and algae growth, which can degrade the overall reflectivity of the roof and reduce anticipated energy savings. However, simply painting a roof white will also save you money.
The Richland Environmental Education Coordinator, Gail Everett says she hopes to see other buildings in the area go green in one shape or form. "I would love to suggest folks when they are thinking about building, to contact their contractor and find out what they can do to help the environment, whether it be a white roof or more energy efficient. We should all be doing that now. It should be mandatory," says Everett. She says you can look on the Home Builder's Association website, and find a list of "eco-friendly" contractors in the Tri-Cities.
Devoted Builders brought the "Build-Green" program to the Tri-Cities back in 2005. Now the Tri-Cities have some 12 or so builders who are certified. One of their projects is the Mediterranean Villas in West Pasco. There are some 200 homes and more than 70 are level 3 certified, the highest level of green certification there is.
Sales Manager Jennifer Cowgill says, "These are the most energy efficient homes that you can buy in the Tri-Cities under the certification. It will cost between a $120 to $150 a month to heat and cool, including water, sewer and garbage per month, for a 2,000 square foot home."