Sister Power for Richland Bombers
Posted:
Updated: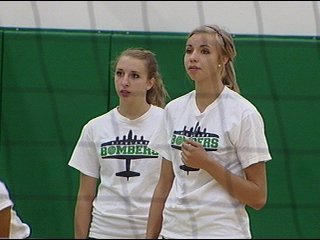 RICHLAND, Wash. -- Last year, Richland Volleyball made it to the state tournament for the first time in the program's history but failed to win a game. The key to having even greater success this season may just lie in a sister-sister combination nicknamed "The Killer Bees."
"That was actual the name of their parent's volleyball team," said Bombers Head Coach Bob Raidl. "Their co-ed doubles team, that's what they called themselves and so I thought it was just kind of appropriate for Chelsey and Alisha."
It is a fitting name indeed for older sister and Richland Senior Chelsey Bettinson and little sister Alisha, who is a sophomore. In one match, the two combined for 30 kills.
"I know she always has my back when we're playing, and she is someone I can talk to no matter what," said Chelsey. "So, it's nice to have her."
"I just really wanted to prove that I was good enough to be on a team that just went to state," said Alisha. "It's really fun playing with my sister."
Now older sister Chelsey is quite the talent. She's already verbally committed to play at Washington State next year. Alisha hopes to gain knowledge from Chelsey to someday become a D-1 talent as well.
"She's a really good hitter so I try to watch her and hit as good as her," said Alisha.
"I think she can do whatever she wants to do," said Chelsey. "Whatever she sets her heart to, she'll be able to do."
"I think that being able to play together and compete hard together has made them even better friends than they are sisters," said Raidl.