Benton PUD leaders host meetings to discuss power rate hike
Posted:
Updated: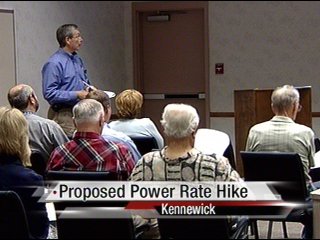 KENNEWICK, Wash. -- Several Benton P.U.D. customers have a better idea why their power rates are going up in a few months. They attended an information meeting Tuesday evening where Benton P.U.D. leaders told them rates are proposed to go up 8.3% effective January 1st because of an increase in wholesale power from the Bonneville Power Administration.
B.P.A. is charging more because of a poor water year and low wholesale prices, but some at the meeting say it's political. "Personally I think most of those cost increases are unwarranted. I think they're coming about because of foolishness that's been made by our state and national leaders and I don't think you guys are making a strong enough effort to fight back on those issues," said Benton P.U.D. customer Thurman Cooper.
Benton P.U.D. commissioners said part of the problem is I-937, the Energy Independence Act, which was passed by voters.
"There are a lot of forces that kind of butt heads here and it looks like it's just common sense but when you try to get into it, when you get closer to Olympia, the closer you get to the other side of the mountains, the common sense gets harder and harder to be seen," said Benton P.U.D. Commissioner Lori Sanders.
A final decision on rate increases is set for November 23rd.
Meantime, there's a meeting for commercial and irrigation customers Wednesday, September 29th at 8:00 a.m. at the Benton P.U.D. auditorium on 10th in Kennewick.