Gap between rich and poor widens, even in Benton and Franklin Counties
Posted:
Updated: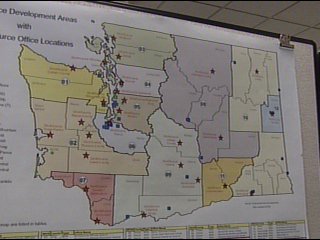 KENNEWICK, Wash. -- The recession seems to be socking Americans in the heart as well as the wallet: Marriages have hit an all-time low while pleas for food stamps have reached a record high and the gap between rich and poor has grown to its widest ever.
The top-earning 20 percent of Americans - those making more than $100,000 each year - received 49.4 percent of all income generated in the U.S., compared with the 3.4 percent made by the bottom 20 percent of earners, those who fell below the poverty line, according to the new figures. That ratio of 14.5-to-1 was an increase from 13.6 in 2008 and nearly double a low of 7.69 in 1968.
At the top, the wealthiest 5 percent of Americans, who earn more than $180,000, added slightly to their annual incomes last year, the data show. Families at the $50,000 median level slipped lower.

Here in the Tri-Cities the disparity is clear as well. TRIDEC President, Carl Adrian says we have different types of workers in the area. "We have a very large agricultural industry, and a very large food processing industry, and then on the other end we have a very technical work force. Lots of engineers and scientists that command high wages.'
The Regional Labor Economist for Benton and Franklin Counties says the gap is growing here too. "Poverty levels in 2008, compared to 2000 census numbers with both counties have increased at least 1.5% to 2.0% in poverty." The wages are climbing as well. "The annual average wage is almost $47,000 in Benton County, and $32,000 in Franklin County. There's a big difference between the two counties. But when you combine both of them, we are second average annual earned after Seattle," says Suljic.

She says the difference can be seen in poverty rankings as well. "According to the census, Franklin County was the 5th county in the state to have the highest level of poverty, while Benton county was 31st county in the state, which is one of the lowest out of 39 counties," says Suljic.
As of 2008, the median household income for Benton County is more than $54,000s, and in Franklin County, it's almost $44,000, which is a $10,000 difference.