Pasco Bulldogs unite behind freshman quarterback
Posted:
Updated: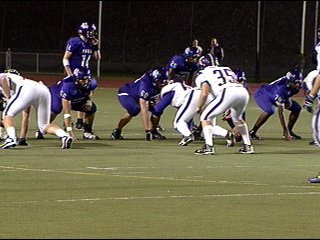 PASCO, Wash. -- The Pasco Bulldogs started the season 0-3 and couldn't seem to get their offense on track. Then, head coach Dustin Lamb gave a freshman a chance.
Brandon Search, a natural receiver playing quarterback, limited the Bulldogs passing game, allowing teams to stack the box and shutdown the run. But, last Friday against Hanford, the Bulldogs inserted freshman Zach Whitby under center and all of a sudden, the offense came to life.
"He just continously surpasses my expectations," said head coach Dustin Lamb. "I get to these points where I think I've overloaded him a bit. Then, he responds with a great throw or a great read."
"It's like we've been playing together for awhile," said Search. "He came out like a veteran. It was great."
Whitby had a feeling his day starting at the varsity level would come, just not this soon. It created some anxiety for the 15-year-old.
"I was super nervous," said Whitby. "Everybody was in the varsity locker room while I was just sitting in the freshman locker room, which is right next to it. I had to go somewhere that was comfortable for me and that was the freshman locker room with my cousins."
If he was nervous, he didn't show it, completing 12 of 19 passes for 200 plus yards and 2 touchdowns in the Bulldogs win against the Falcons.
"I'll get nervous before every game," said Whitby. "I guarantee it."
The team believes with freshman Zach Whitby at the helm that all pieces to their offense are finally in place and that the team can salvage their 1-3 start and make a run towards the playoffs. It is a run that continues this Friday night at Eastmont.