Review board clears officer involved in fatal shooting
Posted:
Updated: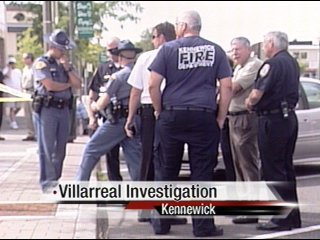 KENNEWICK, Wash. -- A Kennewick Police Officer is back on duty after he was cleared of any wrong doing in a fatal shooting last year. The Kennewick Shooting Review Board looked at the findings and says Officer Lee Cooper did exactly what he was trained to do.
Kennewick Police released this timeline of events from mid-September 2009, when Officer Lee Cooper shot and killed 39 year old Christopher Villarreal in downtown Kennewick.
Cooper said Villarreal was driving recklessly and rammed his motorcycle with a car. The co-council defense attorney for the Villarreal family released a photograph of the motorcycle, which he says shows there was no damage.
Also, initial autopsy results show Villarreal was shot four times, instead of twice (originally reported by KPD). Click here to read the initial results released by the Benton County Coroner.
Last month, the FBI cleared Cooper of any wrongdoing. It was the first time the FBI has investigated a shooting involving the Kennewick Police Department. A U.S. attorney in Spokane previously completed an investigation and closed the case. The case has been forwarded to the U.S. Department of Justice but the attorney in Spokane has recommended they uphold his decision.
Now the Kennewick Shooting Review Board, which consists of a captain, city attorney, two sergeants, and a police officer, find the FBI's conclusion accurate.
"After reviewing the history of Christopher Villarreal; his reckless actions, disregard for common safety and information known to Officer Cooper at the time of the situation, the board concluded that Officer Cooper's actions are lawful and proper," explained KPD Chief Ken Hohenberg.
Dennis Hanson, with the defense co-council responded to Officer Cooper being cleared, saying, "The results of it is Mr. Villarreal lost his life. Parents lost their child. Children lost their Father. Brother and sisters lost their brother. For the KPD to almost trivialize his death is very unfortunate. The family is not happy about that and their day will be heard."
There have been claims that Villarreal was drunk. Hanson denies those claims and says he was on some medication. It may have played a part in his erratic driving, but they don't know at this time.
He also says the family has filed a $13.5 million claim and a civil lawsuit against the Kennewick Police Department and the City of Kennewick.