Arizona man walks his way through Ellensburg
Posted:
Updated: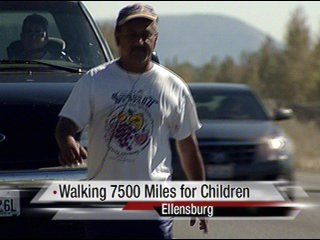 ELLENSBURG, Wash. -- The Arizona man who inspired the famous words in the Forrest Gump movie during the bench scene, walked his way through Ellensburg on Friday.
Louis Michael Figueroa, 43, spent the good part of the morning walking along Interstate 90, when KNDO caught up to him, along the shoulders of the westbound lanes.
Figueroa does have a vehicle that follows him each day, to ensure his safety while walking along the busy highway. The driver today was a volunteer with the Cle Elum Kiwanis Club.
A survivor of child abuse himself, Figueroa is walking across the country to raise money and awareness for a children's protection group.
In 1982, as a teenager, Figueroa set out from New Brunswick, New Jersey for San Francisco, raising money and awareness for the American Cancer Society.
14 years later, Figueroa was on the move again, this time for his brother Jimmy, who was diagnosed with AIDS.
On January 29, 2005, he set out from his hometown in Tucson, AZ walking in a loop around America. Due to complications, after six months and over 3,000 miles Figueroa had to stop walking.
"This time .. left Somerset, PA on June 4th. So I left on the same day that I had to stop. So we could keep a continuum. So it's been almost 10 months on the road now," said Figueroa.
He will continue his walk towards Seattle, then down to Portland, before completing his loop back to Arizona. He hopes to end up in Tucson by December.
Figueroa has his own blog and information page called "7500 Miles for Children" on the Internet at: http://www.7500milesforchildren.com/.